Enjoy your Shopping Spree with Sale of Flat 25% on Furniture Items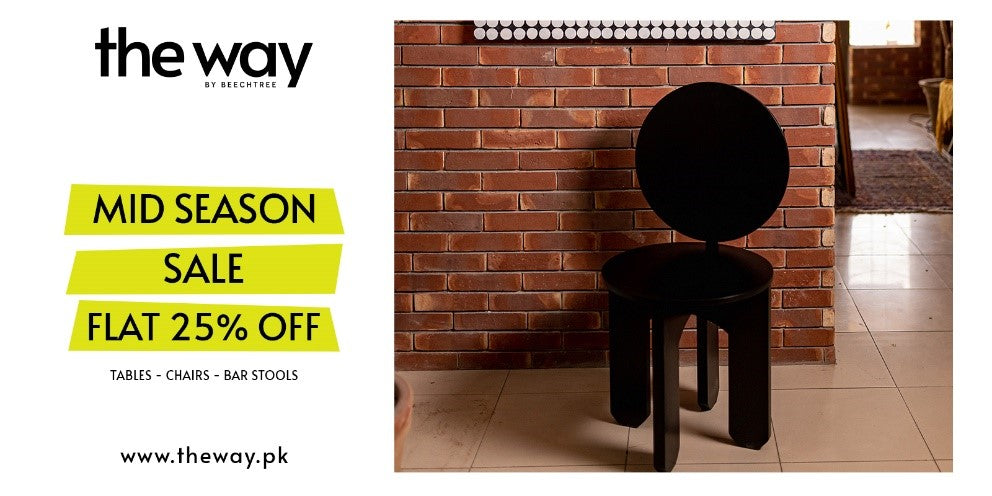 It's time to shop your heart out from our latest ongoing furniture sale, and curate exuberant pieces of furniture to refreshen up your living spaces with trendy pieces of furniture.
Hello everyone, we have a very pleasant surprise for everyone. As the days grow longer and brighter, we are now more than ever spending time indoors. Therefore, this is a perfect chance for all of you to swamp out your old pieces of furniture and refreshen up your space with something new preppy.  Our mid-season furniture sale is live and ongoing with exclusive discounts on all furniture items including chairs and tables. The furniture sale brings you a perfect initiative to invest in pieces that are jazzy, kooky and functional. Read along to go through some of the best furniture finds needed to revamp your home spaces.
Refreshen Up Your Home Spaces
Well, sometimes redecorating your favorite nook with some added color and style will definitely oomph up your space. The latest home décor style brings ample variety for everyone, so if you're looking for subtle, sophisticated and edge furniture, we have certainly got you covered. The furniture sale provides the perfect initiative to invest in furniture pieces that will suit your space and style. Whether you are looking for a bold table or an everyday chair, we assure you, you are sorted. The featured chairs for sale also include this striking Masaya chair which can be placed conveniently in your home space. The structure of the chair levitates the room and makes it cool and chic, perfect functionable and fashionable.  Without taking too much space the abstract structure brings a dreamy vibe which quirks up any space. Apart from this the tables for sale are seamlessly perfect to notch up your lifestyle.
Contemporary Furniture for All Your Nooks
We know that sometimes looking for the right piece of furniture might seem daunting, but furniture is something that you always need. Modern furniture translates personal style and if you are looking to collect pieces that will stay with you a considerably long period of time, this bar stool is where you should start from. The featured Ashton bar stool is elegance redefined with ratan weave in contrast it redefines contemporary furniture with its simple yet classic design. The wooden structure itself is something that you need and the structure itself is swoon worthy. Moreover, the ongoing furniture sale is to keep an eye on, with the furniture table perfect for your expression of individual style and bring timelessness. Also, it's really time for you to invest in pieces that you love and swoon over. An impressive layout of stellar furniture will not only win you compliments but elevate it as well.
Elevate Your House Space Furniture
If you think your favorite side corner is in some dire need of renewal then our table chair sets then from the ongoing tables for sale you have abundance to choose from. Pop colored tables are perfect for adding some statement to your households without going out of your budget. Featured rattan table provides the perfect classic vibe going back to the old-world charm but with a tinge of modernity. In any case this one is definitely worth of all the investments. Apart from this numerous other tables and chairs for sale also provide with great aesthetics and quality and reasonable price points. The home furniture provides amazing quality at startling prices specially with the ongoing prices as well. Hence, browse through the latest home furniture and explore the home furniture that we have to offer.
Quirk up Your Everyday Furniture
Also, there is plenty of reason to explore our ongoing home décor sale. If you are looking for a quick way to some flounce and quick pizzaz then the furniture sale is the perfect time for you to invest in and make it look more class. Well, if you are planning on refurbishing and redecorating your households and make them look more sophisticated and up class for all your get together and night ins with friends and family, then this a prime chance for you to avail our ongoing tables for sale to add perfect touch to all your favorite hangout nooks. The classy style of all our tables with contemporary touch and modish patterns with the weaved rattan is unique in itself and helps to add flair of style and personalization to your home.
Conclusion
Well, everyone our mid-summer sale provides the perfect initiative for you to invest in and purchase your heart out for the best furniture pieces at great prices. Not only is the ongoing sale pocket friendly but it also provides the perfect modern touch to all your favorite corners. Adding a perfect touch to all your spaces our wide array of furniture with both chairs and tables provides the perfect one stop shop for your furniture obsessions. Hence, without further ado, browse through our collection and grab your favorites at amazing prices, with the ongoing sale going on as well.